Marley was dead,to begin with. In fact he had been gone this last seven years and the Scrooge and Marley Academy Trust no longer bore his name after he had failed to attend his return to work interview.  "A humbug of an excuse," muttered Scrooge, working on his development plan by the light of a single candle.
"Mr Scrooge," came a plaintive cry from the booth opposite. Bob Cratchit, the mild mannered History teacher could not be observed, hidden as he was under a vast pile of quadruply marked manuscripts. Taking care not to spill the precious supply of purple ink for the fifth stage of his feedback, Bob slipped from his isolation and timidly approached the desk. "I wished to beg, if it wasn't too much trouble for you Mr Scrooge, for tomorrow off."
"A day off! What a humbug!"
"It is Christmas Day sir. And what with Tiny Tim being so unwell sir. And what with your nephew's free school guaranteeing staff time for family medical emergencies I thought that…."
"You'll be expecting the whole day then. I'll dock you the half-crown of your wages. And that data won't input itself you know."
Wishing to avoid an evil stare, crossed arms or an unannounced learning walk, Cratchit grabbed his scarf and hat and hurried out of the door. Scrooge meanwhile finished his business and took the candle with him to his chambers.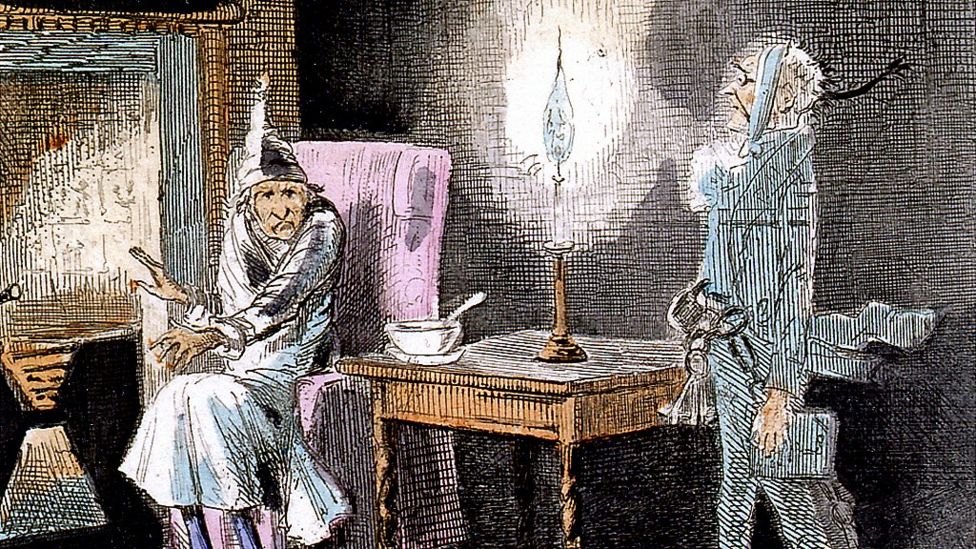 That evening, a phantom appeared. "Will you not ask who I am?" asked the visitor. Scrooge cowered. "I am the ghost of Jacob Marley, gone these last seven years. My wellbeing was naturally compromised by my untimely death and the thirty-seven reports I was expected to complete on a Sunday evening. Scrooge: you will be visited this very evening by three spirits. Expect the first as the clock tolls one."
True to Marley's word, at 1am a kindly looking man, wearing a dark suit and bearing a clipboard appeared. "I am the Spirit of Wellbeing Past. Come with me."
They arrived soon enough in a classroom, desk at the front with the teacher sat behind, intoning from the volume before him; children in rows, observant and sitting straight. Incorrect answers met with derision, correct answers with a curt "yes" before the teacher directed the smallest boy to "fetch the art books from Mrs D next door so I may monitor unannounced the progress towards her target grades."
"That is me, in my younger years. But Spirit; you said you are the Spirit of Wellbeing Past. There is no wellbeing here."
"Precisely. My fellow spirit will direct you further to the consequences."
Scrooge slept fitfully, woken at the next hour.
"I am the Spirit of Wellbeing Present," uttered the ghost, still in a dark suit and with the same clipboard but with a careworn expression and bags under the eyes.
Scrooge was taken by the Spirit to a staffroom, on the last staff meeting of the term. Equally careworn staff lay strewn over the threadbare chairs, late arrivals perched nervously by the tea urn or leaning on the filing cabinet.
"I recognise this place," announced Scrooge. "It is the failing school I took into the Scrooge Academy Trust last summer."
The meeting was in full flow, or at least the interim Head of School was, listing the progress seen in the last twenty minutes, feeding back his monitoring of the shades of blue on the displays and the acceptable level of diversion from the vertical he would accept, which was a very round zero.
One brave soul, due to retire at Easter, piped up. "Where is the wellbeing you promised us?"
"You had half an hour of mindfulness on the training day in September,an Indian head massage the day before half term and a box of oranges from the PTA a fortnight ago. What more do you expect?"
"Workload reforms! Did you not read what the Department sent out?"
"Never heard of them! Probably in my spam emails. You know I never read anything that comes at the weekend or in the holidays."
At this point the staff collectively sighed as the meeting entered a third hour.
"Your third visitor will come for you soon Scrooge. Be ready."
Expecting an empty hooded Spirit, Scrooge was relieved that this one did not reply to his question "You must be the Spirit of Wellbeing Yet to Come, are you not?"
A single bony finger emerged from a gown, pointed at Scrooge and then to Cratchit's house.
"What am I to see here Spirit? Tiny Tim lying in his coffin whilst his father completes the assessment due tomorrow, barely having time to comfort his wife?"
But no! Before him lay a table, groaning with Christmas fare and the finest prize turkey in pride of place.
"I do believe Mr Scrooge himself was my Secret Santa," announced Bob, "as the turkey barely fitted onto my desk. The assessments had all been completed overnight and the data entered into the ledger in a hand different to my own."
"Mr Scrooge really is a man of integrity, values and principles, with the wellbeing of all his staff at his very heart," replied Mrs Cratchit. "He gave you time to take Tiny Tim to his appointments, guaranteed your release time and done away with that ghastly purple quill of quality. It is almost as if he has found a toolkit of wellbeing strategies."
"A Wellbeing Toolkit," thought Scrooge to himself, now there's a thought."
Scrooge had no further unannounced learning walks with Spirits. He lived by the Total Wellbeing Principle ever afterwards. And so as Tiny Tim observed, "God Bless Us, Every One!"